Taliban did not kill Afghan president's brother: NATO
16.10.2011 - 22:04
Source: Reuters - http://www.reuters.com/article/2011/10/15/us-afghanistan-nato-idUSTRE79E1R020111015
By Martin Petty
KABUL | Sat Oct 15, 2011 7:12pm EDT
KABUL (Reuters) - The man who killed the influential half brother of Afghan President Hamid Karzai three months ago carried out the attack for personal reasons and was not a Taliban fighter, a senior NATO official said Saturday.
Investigations following the death of Ahmad Wali Karzai at his Kandahar home in July showed that the employee who killed him had learned he would be disciplined for misconduct and shot Karzai to avoid being publicly shamed, the official said.
The Taliban claimed responsibility for the killing, as part of a string of high-profile assassinations in recent months that underlined their reach even as a surge of foreign troops made gains in their southern heartlands.
Other victims have included former president and government peace envoy Burhanuddin Rabbani, a top police commander for the north, and the governor of Kunduz province. The NATO official did not question the Taliban's role in these other killings.
"It was a murder, not an assassination," the NATO official said of Karzai's killing, in a briefing to unveil NATO statistics showing a fall in Taliban attacks. "It wasn't politically motivated and it wasn't an insurgent masterstroke."
The NATO official said the killer, a guard force commander who ran checkpoints in the Kandahar area, had been reported to Karzai for his alleged mistreatment of local people.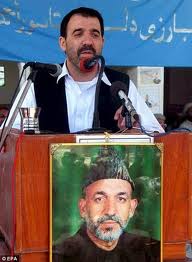 INFILTRATION CLAIMS QUESTIONED
The official also played down Taliban claims that insurgent fighters and sympathizers were behind attacks by Afghan police or soldiers on foreign troops mentoring or working with them, that have killed dozens in recent years.
"This is a gun culture, we've studied infiltrations and in the majority of cases there are no Taliban ties ... insurgents will always claim every attack," the official said.
In the majority of "rogue" attacks, the gunmen were suffering from stress due to personal problems and had no connection with the Taliban.
Some insurgents acquired police or army uniforms to evade security when targeting Afghans and foreigners, but were not actually members of the security forces, he added.
Over the first nine months of the year, insurgent attacks using improvised explosive devices (IEDs) rose 6 percent compared with the same period of 2010, but the overall number of attacks by insurgents fell around 8 percent over the same period, the official said.
ISAF intelligence suggested they had switched to using roadside bombs to avoid losses on the battlefield and were fully aware that more civilian casualties would be incurred.
Many insurgents were unable to pull off most of the attacks their leaders had called for, the official added.
"There's a disconnect between what they said they wanted to do and what they were actually able to do," he said. He conceded however that the Taliban was a "adaptable and resilient" and gains made by coalition forces could easily be undone.
"This is progress, it's real progress, but I still classify it as fragile," he said. "If we don't continue the pressure, it will be reversible and durability will be in question."
Data compiled by the United Nations, however, showed a sharp rise in security incidents and higher numbers of civilian casualties over the first eight months of the year.
Share This
Your comments on this
---