Ashraf Ghani Ahmadzai, or the "Top Thinker" in the World Scouting for the Empire in Afghanistan
18.09.2013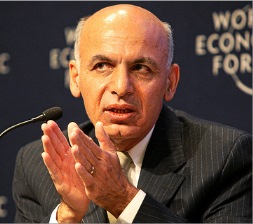 The postings on the website 8Sobh (8Morning) dated 6 Sonbola 1392 (August 7, 2013) include an article in Farsi titled "Fasl-e natamom dar tarikh-e Afghanistan" (an incomplete chapter in the history of Afghanistan) by Ashraf Ghani Ahmadzai (aka "Ashraf" and "Ashraf Ghani"– His website http://ashrafghani.com/profile-dari/ is under the name "Ashraf Ghani".
There is absolutely nothing original in this article and other writings of Ashraf Ghani Ahmadzai about the ethnology and history of Afghanistan. The bulk of these texts are unacknowledged abstract snippets (many of them intact) from Euro-American English language academic and political sources. His academic credentials from Western institutions contain some mysterious features. His Ph. D. dissertation was first accepted for and then withdrawn from publication by Columbia University Press during the 1980s. When attending the American University of Beirut during the late 1970s he received extensive help from a Lebanese Marxist scholar Fouad Saade', brother of his wife, Rula. (For her public presence and stylish European dress, Rula Ghani stands out as the most Westernized woman among the Kabuli elite). The subject and large portions of the contents of Ashraf Ghani's MA thesis (political science, AUB, 1977—not posted on his website) under the name "Ashraf Ghani Ahmadzai" and his Ph. D. thesis (anthropology, Columbia University, 1982 [or is it 1984? See cover pages]—posted on his website) under the name "Ashraf Ghani" are strikingly similar. His Ph. D. thesis is dedicated "To the memory of Fouad Saade'. Both documents are listed on the WorldCat (OCLC).
In the article titled "Setayesh az Ashraf Ghani Ahmadzai ba 'enwan-e motafaker-s bozorg-e jahan" (in praise of Ashraf Ghani as a great thinker of the world [8Sobh, 11 Jawza 1392—June 1, 2013]) it is stated that Ashraf Ghani was born in a Kochi (nomadic) family (Farsi, "dar yak khanawada-ye kochi ba donya omada ast") in the Province of Logar. Such a claim has no historical or cultural validity. This self-styled "brown face with white mask" citizen of the United States and scout for the American occupation forces and I lived in the same neighborhood of old Kabul—gozar-e formuliha at the northern base of Bala Koh mountain. Ashraf Ghani was born and raised in this neighborhood. Contrary to his insistent official claims, he was neither born in the province of Logar nor did he spend his early life there. His father (Shah Pesand, nicknamed Shah Jon and Sher Ogha) had no known and active (demonstrable) tribal relationships to Pashtun nomadic or settled groups in Afghanistan. Shah Pesand never worked for the government of Afghanistan. He spent much of his early adult life working as a clerk in a joint (private-government) corporation called Riyasat-e Naqliyat (Transportation Directorate) in Kabul. The Kabul government owned shares in this corporation but did not administer it. During the 1980s Shah Pesand migrated to Pakistan and acquired a large fleet of trucks. These trucks were engaged in moving commodities across the Durand Line.
Ashraf Ghani's selective claim to "Ahmadzai" identity is merely a stipulation that cannot be demonstrated. Authentic membership in a Pashtun lineage requires stipulation and demonstration. Ashraf Ghani's patrilineage (prior to his grandfather) may have consisted of some farmers in Sorkhab, Logar. His great grandfather, Bahram (a classic Persian personal name) and a number of other Pashtun landlords in the region were major collaborators, hosts and scouts for the British occupation forces during the second Anglo-Afghan war of 1878-1880. The evidence for this is available in the extensive published accounts of this war. Moreover, Ashraf Ghani's patrilateral grandfather, Abdul Ghani, collaborated with the British-subsidized forces (led by Mohammad Nader) during 1929-1930 to unseat Habibullah Kalakani. For this Abdul Ghani was rewarded by king Nader with an honorary military title, an oversized used European army uniform including black knee-high boots, several sets of used leather covered easy-chairs, a pension and a free house in our old Kabul neighborhood. The house was one of many that the government of Kabul had confiscated from its opponents earlier. It was widely rumored that during the 1930s and 1940s Abdul Ghani exercised substantial influence over a gang of thugs operating in the saqawa desert in Logan province. A wild mannered man named "Balai" who occasionally visited the Ghani household, was alleged to have been the leader of these thugs. Balai was Abdul Ghani's second wife's (Ashraf's grandmother's) younger brother.
Ashraf Ghani's mother (Kawkaba [nicknamed Ziagol]) was the daughter of Ahmad Ali Lodin, a Farsiwan from the Kohdaman area. Ahmad Ali may have been a Shi'a. The upper part of Ashraf Ghani's face closely resembles that of Ahmad Ali Lodin. Photographs of Lodin are available in the 1930s and 1940s issues of the yearbook of Kabul magazine. (In terms of overall physical appearance and general disposition, some have suggested a strong resemblance between Ashraf Ghani Ahmadzai and a morphological hybrid of Mike Tyson and Grocho Marx). The household in which I was raised occasionally interacted with the household in which Ashraf Ghani was born and raised in old Kabul. At birth Ashraf Ghani was given the name "Ashraf" (only one word) in honor of Shah Ashraf Hotak, one of the Pashtun rulers in Esfahan, Iran during the early eighteenth century. Ashraf's older brother was named "Ahmad Shah" in honor of Ahmad Shah Dorani; his youngest patrilatral uncle was named "Mir Wais" in honor of Mir Wais Hotak, the Pashtun ruler of Qandahar during early eighteenth century. Ashraf attended elementary school in Kabul not in Logar as claimed in his website and elsewhere. "Ghani" was added as a suffix to Ashraf's name during his high school years. He attended the American University of Beirut during the 1970s under the name "Ashraf Ghani Ahmadzai". Since then he has fluctuated in invoking these three personal identity tools. This fluctuation has become quite mercurial since 2001 when he formally started scouting for the American imperial machine in Afghanistan.
Farsi was the lingua franca of Ghani's household. His father, grandfather and most of his consanguineal and affinal relatives lived and died in Kabul and are buried in the Shohada-ye Salehin cemetery, south of the city. I clearly remember the text and context of Ashraf Ghani's birth and upbringing in Kabul during the late 1940s and early 1950s. Ashraf attended elementary school in Kabul and was educated in Habibiya high school in Kabul. During the 1970s Ashraf Ghani worked as a translator in various Euro-American research projects in Kabul. Access to these Western academic networks helped Ashraf Ghani in finding his way to AUB and Columbia. Since 2001 Ashraf Ghani has served as a major "native" advisor to the leadership of the American colonial intervention in Afghanistan. In essence, Ashraf Ghani has been doing for the American occupation forces in Afghanistan what his Ahmadzai ancestors had done for the British during the First Anglo-Afghan War and during 1929-1930. Apparently collaboration with outsiders runs in Ashraf Ghani's patrilineage. In Kabuli Farsi this is called watan foroshi (selling the homeland) and morda gawi (pimping).
Asharf Ghani's cultural links to Pashtun tribal culture and society have been severed for at least three generations—probably by the end of the 19th century. Pashtun identity consists of a triangle of having Pashtun blood (Pashtu laral—to be claimed and demonstrated), speaking Pashtu (Pashtu wayal) as one's first (mother) language, and doing Pashtu (Pashtu kawal). Based on the historical record and Ashraf Ghani's public social features, his claim to Pashtun identity is slimly threaded by his ability to speak bazari Pashtu. Ashraf Ghani is a true "native" of Kabul—he is a genuine Kabuli. He and his younger brother (Hashmat Ghani) have cleverly invented a Pashtun Kochi identity for themselves since 2001. Hashmat Ghani, who has no known formal education, spent much of his youth during the 1980s and 1990s in Virginia as a taxi driver. By chance I briefly met Hashmat Ghani in Virginia at his father's apartment during 1996. He barely spoke Pashtu. With the obvious instrumentality of his older brother, Hashmat has manipulated his way to the parliament of Afghanistan as the representative of the Kochis (nomads).
In introducing Ashraf Ghani at a May 2011 conference on Afghanistan the president of Brown University stated that Ghani had (apparently with pride!) told her that his birth date was recorded by his father (Shah Pesand) in an encyclopedia! The idea of an "encyclopedia" in Ashraf Ghani's household (and in the vast majority of Kabuli households) during the 1940s is incompatible with the cultural realties of domestic life in Kabul, especially the Old Kabul. Indeed, it is a profound contradiction to locate encyclopedias in the non-literate cultures of the nomadic societies of Afghanistan. At the Brown University conference, in order to invent, indeed fabricate, historical depth for his confusing and garbled political expatiations, Ghani stated that embedded in the epistemology of Baghdad is bagh-e dad (Persian, garden of justice). A systematic cultural and historical analysis of "Baghdad" generates no such thing. A widely agreed upon meaning of Baghdad among scholar is "Gift of God" (old Persian, bag meaning god, dad meaning given). Some have suggested an etymological relationship between Baghdad and the Talmudic "Bagdatha" (See the entries for "Baghdad" in the Encyclopaedia Iranica and the Encyclopaedia of Islam.
There are widely circulating photographs of Ashraf Ghani bathing (almost totally nude) in public (for ablution!) in a stream of water somewhere in eastern Afghanistan during 2009! Such a profane public display of body is out of place in the Islamic culture of Afghanistan. In another photograph he is seen wiping his face with a flag in a formal public military ceremony! For those interested in fashion and the arts of dress, Ashraf Ghani's public presence entails a wardrobe of high taste and immense diversity—from pre-modern to modern, from modern to postmodern, from elegant European suites with exquisitely knotted neckties to the most layered rural (gaebi) shalwar-kamees sets. (See these examples.) No one in Afghanistan, but Ashraf Ghani, wears such diverse and artful configurations of European suits, Afghan turbans, and other finely tailored garments. To my knowledge no one can match the variety of turbans that decorates Ashraf Ghani's skull. Ashraf Ghani has not been seen wearing a chapan, the long-sleeved green (Uzbek) over-garment that covers the body of Hamid Karzai. I have not seen images of Ghani in Afghanistan in his Parisian suites. Nor have I seen Ashraf Ghani in Euro-America wearing the "Afghan" garments he wears in Afghanistan. The reasons for these stylistic variations in political and cultural spaces may only be known to Rula, General David Petraeus, and Thomas Gouttiere (the author of Hamid Karzai's wardrobe and director, Afghanistan Studies Center, University of Nebraska-Omaha). Last Spring Ashraf Ghani displayed an artfully styled long beard (including a moustache). By July all his facial hair was shaved off!! Such patterns of transformation (verging on stark instability) in the "Presentation of Self in Everyday Life" of Ashraf Ghani may be simply related to "taste", or the dynamics of Afghan and global politics, or the changing location of Ghani's podium in these dynamics, and/or deep seated psychological complexities inside Ashraf Ghani about which we can only speculate.
Ashraf Ghani and Clare Lockhart (a European investment banker of mysterious academic background and institutional affiliations) have written a book titled "Fixing Failed States" that partially deals with Afghanistan. For a systematic rejection of the contents of this book see chapter 19 in The Handbook on the Political Economy of War by C. T. Coyne and R. L. Mathers, 2011, Cato Institute. Ashraf Ghani is a member of the Atlantic Council; Lockhart is associated with the Aspen Council. Ghani and Lockhart are co-chairs of the Institute for State Effectiveness headquartered in Washington DC. These two self-styled specialists in state building and state fixing have recently ventured into "Preparing for the New Syria". Ashraf Ghani exemplifies the beloved exotic "Afghan" pet of the West—perhaps surpassing the "Afghan Hound". He has been recently named by the British "Prospect Magazine" as the number two "Top Thinker" in the world for the year 2013. The New York Times (August 18, 2009) declared Ashraf Ghani as "the most educated and Westernized of Afghanistan's candidates". During 2006 Laura Nader, an eminent anthropologist of the Middle East, told me that Ashraf Ghani is popular among the Euro-American academic and political elite because he speaks "very good English"! At the 2009 Brown University conference on Afghanistan, Michael D. Kennedy, an American sociologist and co-sponsor of the "Engaging Afghanistan" project, sorrowfully addressed Ashraf Ghani with "I wish there were so many more like you". How cute!! Look at how he moves his hands and eyes and those adorable pigeon toes!!
When Ashraf Ghani was the finance minister of Afghanistan, he was known for robust temper tantrums during the meetings of the cabinet of Hamid Karzai. During his chancellorship of Kabul University he was known to be uncomfortable interacting with the local faculty and staff of the university. Ghani was visibly relaxed and at ease when meeting and chatting in English with Euro-American visitors during his tenure as chancellor of Kabul University. These variable social effects continue to be visible in Ashraf Ghani's verbal behavior and body language in public spaces.
In a 2008 conference at The Brookings Institution (attended by Ashraf Ghani) Lakhdar Brahimi, special advisor about Afghanistan to the Secretary General of the United Nations commented about Ashraf Ghani's performance when the latter served as Brahimi's assistant: "[I]t was really an experience to have worked with him in Afghanistan for two very, very long and full years. And just before I left, I told a story about him. I said that, you know, there was this Bedouin trying to load his camel. And he was putting all sorts of things on the back of a camel, one after the other. And then he came with a big bag and said, I don't know whether I want to add it or not. And the camel turned to him and said, you go right ahead. I am not getting up anyway. But Ashraf was like that in Afghanistan. And he is still like that. The only difference is that he keeps getting up". James Carville, the famous ("Ragin Cajun") American political strategist, openly served as a consultant and advisor to Ashraf Ghani's campaign for the presidency of Afghanistan during 2009. In a public statement, referring to Carville, Ghani stated "this is a Louisiana boy who understands. If you understand New Orleans, you understand Afghanistan" (National Public Radio interview with Carville and Ghani, July 25, 2009). New Orleans is Carville's home town. No wonder Ashraf Ghani is currently the American-appointed head of the "Afghanistan Transition Coordination Commission"!
Article sent to khorasanzameen.net for publication by the author.
Originally published Zero Anthropollogy:
http://zeroanthropology.net/2013/09/05/ashraf-ghani-ahmadzai-or-the-top-thinker-in-the-world-scouting-for-the-empire-in-afghanistan/
Share This
Your comments on this
---